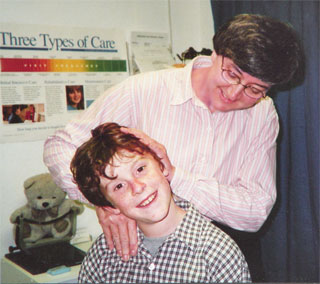 Dr. Markos applying the Diversified Technique
Clinic Goals
Our clinic is committed to providing the highest quality in urgent, chronic and wellness care, utilizing cutting edge chiropractic skills. This provides the patient with a wide range of treatment options, ranging from low force to traditional 'snap crackle pop' osseous chiropractic techniques.
Our office provides low level laser, flexion-distraction, percussive instruments as well as manual adjustments. We specialize in the effective treatment of painful structural patterns, neurological losses associated with
multiple sclerosis
,
motor vehicle accidents
, sports injuries, work related and chronic pain conditions including extremity dysfunction.
Dr. Markos
Dr. Charia 'Cheri' Markos, clinic chiropractor and owner of North City Chiropractic Health Clinic in Shoreline, WA., is a 1996 graduate of Western States Chiropractic college in Portland Oregon. Dr. Markos has over twenty years experience working in sports, physical therapy, massage and chiropractic. Dr. Markos draws from her varied background to provide patients with individualized care tailored to suit their needs. She was featured in the Multiple Sclerosis Association of King county Contact Newsletter in spring and fall of 2001.
Past Work Experience
Her past work experience with orthopedic physical therapy patients has made her the perfect chiropractor for acute or chronic conditions, pre or post surgery, joint or muscles pain.
Genuine Concern
Dr. Markos has a genuine concern for the well-being of all people and is dedicated to the effective treatment and individualized attention given to each of her patients.
Location
Our clinic has been located in the North City Business District of Shoreline WA since 1996. A large portion of our patients are referred by word of mouth.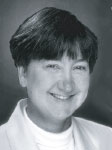 Dr. Markos, D.C.
High Level of Success
Dr. Markos has achieved a high level of success with painful conditions associated with the spine and extremities to include: sciatica, headaches, low back pain, whiplash, tingling or numbness in the legs/hands/feet, plantar fasciitis, carpal tunnel, rib pain, fibromyalgia and hip/knee/ankle dysfunction.
Recognition
Dr. Markos has been recognized for her results with patients suffering from multiple sclerosis and has been featured in the Multiple Sclerosis Association of King County Contact newsletter. Dr. Markos has been consulted for treatment advice by chiropractors as far away as Australia.
If you have not been able to find relief anywhere else, try us.
You will feel the difference.